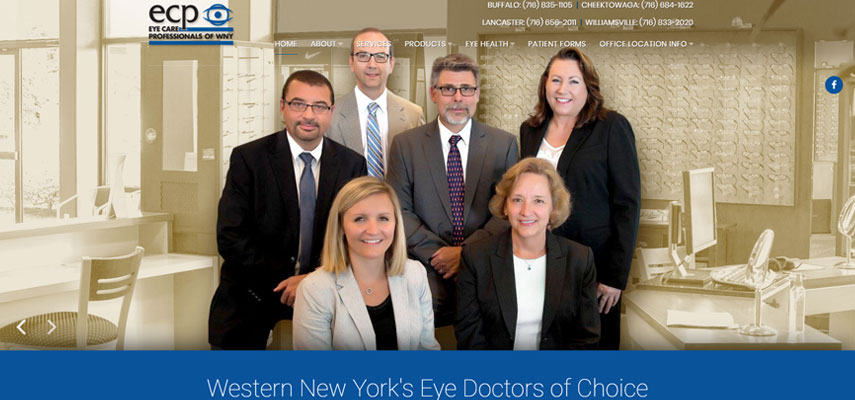 After a lot of hard work with EyeMotion, our website company, we're pleased to be launching our brand-new website. Our goal has been to create a site that would assist you in learning about us, whether it's finding one of our 4 convenient locations or reading about our wonderful eye doctors, or discovering some of our quality products and services.
Have questions about an eye issue? We think you might also benefit from our great optometric content on eye diseases and conditions.
Our plan is to use this area to keep you informed on new offerings, sales, trunk shows, events, and so much more. Check back here from time to time to keep updated.
We're glad you found us, and we hope to see you soon!
There are several different variations of Glaucoma, but in this article we will mainly focus on Primary Open Angle Glaucoma. This means that there is no specific underlying cause for the Glaucoma like inflammation, trauma or a severe cataract. It also means that the drainage angle where fluid is drained from the inside of the eye into the bloodstream is not narrow or closed.
Closed or Narrow Angle Glaucoma, which will be discussed in another article, is treated differently from Open Angle Glaucoma
In the U.S., Primary Open Angle Glaucoma (POAG) is by far the most common type of Glaucoma we treat.
Glaucoma is a disease where the Optic Nerve in the back of the eye deteriorates over time, and that deterioration has a relationship to the Intraocular Pressure (IOP). Most - but not all - people diagnosed with Glaucoma have an elevated IOP. Some people have fairly normal IOP's but show the characteristic deterioration in the Optic Nerve. Regardless of whether or not the pressure was high initially, our primary treatment is to lower the IOP. We usually are looking to try to get the IOP down by about 25% from the pre-treatment levels.
The two mainstays of initial treatment for POAG in the U.S. are medications or laser treatments. There are other places in the world where Glaucoma is initially treated with surgery. However, while surgery can often lower the pressure to a greater degree than either medications or laser treatments, it comes with a higher rate of complications. Most U.S. eye doctors elect to go with the more conservative approach and utilize either medications - most often in the form of eye drops - or a laser treatment.
Drops
There are several different classes of medications used to treat Glaucoma.
The most common class used are the Prostaglandin Analogues or PGA's. The PGA's available in the U.S. are Xalatan (latanaprost), Travatan (travapost), Lumigan (bimatoprost) and Zioptan (tafluprost).
PGA's are most doctors' first line of treatment because they generally lower the IOP better than the other classes; they are reasonably well tolerated by most people; and they are dosed just once a day, while most of the other drugs available have to be used multiple times a day.
The other classes of drugs include beta-blockers that are used once or twice a day; carbonic anhydrase inhibitors (CAI's ), which come in either a drop or pill form and are used either twice or three times a day; alpha agonists that are used either twice or three times a day; and miotics, which are used three or four times a day. All of these other medications are typically used as either second-line or adjunctive treatment when the PGA's are not successful in keeping the pressure down as single agents.
There are also several combination drops available in the U.S. that combine two of the second-line agents (Cosopt, Combigan, and Symbrinza).
Laser
The second option as initial treatment is a laser procedure.
The two most common laser treatments for Open Angle Glaucoma are Argon Laser Trabeculoplasty (ALT) or Selective Laser Trabeculoplasty (SLT). These treatments try and get an area inside the eye called the Trabecular Meshwork - where fluid is drained from the inside of the eye into the venous system - to drain more efficiently.
These treatments tend to lower the pressure to about the same degree as the PGA's do with over 80% of patients achieving a significant decrease in their eye pressure that lasts at least a year. Both laser treatments can be repeated if the pressure begins to rise again in the future but the SLT works slightly better as a repeat procedure compared to the ALT.
Article contributed by Dr. Brian Wnorowski, M.D.
Read more: Newly Diagnosed with Glaucoma? Here are some treatment options.
The Background
Over the last several years, research has indicated a strong correlation between the presence of Obstructive Sleep Apnea (OSA) and glaucoma. Information from some of these pivotal studies is presented below.
Did you know
Glaucoma affects over 60 million people worldwide and almost 3 million people in the U.S.
There are many people who have glaucoma but have not yet had it diagnosed.
Glaucoma is the second-leading cause of blindness in the U.S. behind macular degeneration.
If glaucoma is not detected and goes untreated, it will result in peripheral vision loss and eventual, irreversible blindness.
Sleep apnea is a condition that obstructs breathing during sleep.
It affects 100 million people around the globe and around 25 million people in the U.S.
A blocked airway can cause loud snoring, gasping or choking because breathing stops for up to two minutes.
Poor sleep due to sleep apnea results in morning headaches and chronic daytime sleepiness.
The Studies
In January 2016, a meta-analysis by Liu et. al., reviewed studies that collectively encompassed 2,288,701 individuals over six studies. Review of the data showed that if an individual has OSA there is an increased risk of glaucoma that ranged anywhere from 21% to 450% depending on the study.
Later in 2016, a study by Shinmei et al. measured the intraocular pressure in subjects with OSA while they slept and had episodes of apnea. Somewhat surprisingly they found that when the subjects were demonstrating apnea during sleep, their eye pressures were actually lower during those events than when the events were not happening.
This does not mean there is no correlation between sleep apnea and glaucoma - it just means that an increase in intraocular pressure is not the causal reason for this link. It is much more likely that the correlation is caused by a decrease in the oxygenation level (which happens when you stop breathing) in and around the optic nerve.
In September of 2016, Chaitanya et al. produced an exhaustive review of all the studies done to date regarding a connection between obstructive sleep apnea and glaucoma and came to a similar conclusion. The risk for glaucoma in someone with sleep apnea could be as high as 10 times normal. They also concluded that the mechanism of that increased risk is most likely hypoxia – or oxygen deficiency - to the optic nerve.
The Conclusion
There seems to be a definite correlation of having obstructive sleep apnea and a significantly increased risk of getting glaucoma. That risk could be as high as 10 times the normal rate.
In the end, it would extremely wise if you have been diagnosed with obstructive sleep apnea to have a comprehensive eye exam in order to detect your potential risk for glaucoma.
Article contributed by Dr. Brian Wnorowski, M.D.
This blog provides general information and discussion about eye health and related subjects. The words and other content provided on this blog, and in any linked materials, are not intended and should not be construed as medical advice. If the reader or any other person has a medical concern, he or she should consult with an appropriately licensed physician. The content of this blog cannot be reproduced or duplicated without the express written consent of Eye IQ.
With the legalization of medical marijuana in 29 states as of April 2017, the question of whether marijuana is a good treatment for glaucoma has resurfaced.
Glaucoma is a common eye disease that affects the optic nerve and results in loss of peripheral vision. The treatment for glaucoma is to lower the pressure - intraocular pressure - inside the eye. This can be accomplished by laser, eye drops, or surgery.
The idea that marijuana can be used to treat glaucoma dates back to the 1970s. Smoking marijuana does lower intraocular pressure but the effect lasts only 3-4 hours. In order for marijuana to be an effective treatment, a person would have to smoke marijuana every 3 hours. Since marijuana also has psychoactive effects, consistently smoking it could prevent a person from performing at maximum mental capacity, and frequent use can cause problems with short-term memory.
Marijuana not only lowers intraocular pressure but also blood pressure and blood flow throughout the body. There is, however, evidence that decreased blood flow to the optic nerve may cause further damage. Therefore, it is possible that the lower intraocular pressure is negated by the decreased blood pressure to the eye.
Other ways of administering the active ingredient of marijuana, tetrahydrocannabinol (THC), include oral and topical administration. These forms avoid the potentially harmful compounds that could damage the lungs from marijuana smoke. However, the oral form would not avoid the systemic effects of marijuana.
There has been a research program that enrolled nine patients to take either oral THC or inhaled marijuana. None of the patients could sustain treatment for more than 9 months due to side effects such as distortion of perception, confusion, anxiety, depression, and severe dizziness. (https://www.ncbi.nlm.nih.gov/pubmed/12545695)
Alternatively, though eye drops may potentially avoid systemic effects, there is no formulation currently available to introduce a sufficient amount of the active ingredient into the eye.
The position by the American Glaucoma Society and American Academy of Ophthalmology is that marijuana is not recommended in any form for treatment of glaucoma at the present time.
Article contributed by Dr. Jane Pan
This blog provides general information and discussion about eye health and related subjects. The words and other content provided in this blog, and in any linked materials, are not intended and should not be construed as medical advice. If the reader or any other person has a medical concern, he or she should consult with an appropriately licensed physician. The content of this blog cannot be reproduced or duplicated without the express written consent of Eye IQ.
Are you thinking about starting to wear contact lenses or switching to a different type of contact?
Wearing contacts can make a big difference in the way you see things – such as sharper details and brighter colors. And technology has made contacts more comfortable than ever.
While we look forward to discussing contact lenses and working closely with you to find the right type of lens to meet your needs, here are some things for you to think about:
Reasons to consider contact lenses
Contact lenses move with your eye, allow a natural field of view, have no frames to obstruct your vision and greatly reduce distortions.
Unlike glasses, they do not fog up or get water spots.
Contact lenses are excellent for sports and other physical activities.
Many people feel they look better in contact lenses.
Compared to eyeglasses, contacts may offer better, more natural sight.
Some things to remember about contact lenses
Compared to glasses, contact lenses require a longer initial examination and more follow-up visits to maintain eye health. Lens care also requires more time.
If you are going to wear your lenses successfully, you will have to clean and store them properly, adhere to lens-wearing schedules and make appointments for follow-up care.
If you are wearing disposable or planned replacement lenses, you will have to carefully follow the schedule for disposing the used lenses and using new ones.
Contact lens types
There are two general types of contact lenses: hard and soft.
Rigid gas-permeable (RGP):
The hard lenses most commonly used today are rigid gas-permeable lenses (RGP). They are made of materials that are designed for their optical and comfort qualities. Hard lenses hold their shape, yet allow the free flow of oxygen through the lenses to the cornea of your eye.
RGPs provide excellent vision, have a short initial adaptation period, and are easy to care for. RGPs are comfortable to wear, have a relatively long life, and correct most vision problems.
The disadvantages are that RGPs require consistent wear to maintain how comfortable they feel, and can occasionally slip off-center of the eye.
Soft contact lenses:
Soft lenses are the choice of most contact wearers. These lenses are comfortable and come in many versions, depending on how you want to wear them.
Disposable-wear lenses are removed nightly and replaced on a daily, weekly, biweekly, or monthly basis and are easy to get used to wearing.
Daily-wear contacts do not need to be cleaned and are great for active lifestyles but don't correct all vision problems and vision may not be as sharp as with RGP lenses.
Extended-wear soft contacts can usually be worn up to seven days without removal. Be sure to ask us about extended-wear contacts and a possible greater risk of eye infections.
Colored soft contacts change your eye color, the appearance of your eye, or both. They are available by prescription and should only be worn after an eye exam and fitting by an eye-care professional. Over-the-counter colored contacts are illegal in some states and pose a serious danger to your eye health.
Bifocal or multifocal
Bifocal or multifocal contact lenses are available in both soft and RPG varieties. They can correct nearsightedness, farsightedness and astigmatism in combination with presbyopia. Visual quality is often not as good as with single vision lenses; however, for some people the ability to correct presbyopia is worth it.
Contacts are a great fit for many patients but don't forget to be prepared
Carry a backup pair of glasses with a current prescription—just in case you have to take out your contacts. Contacts can make your eyes more light-sensitive, so don't forget to wear sunglasses with UV protection and a wide-brim hat when you're in the sun.
Hygiene is the most critical aspect to successfully wearing contacts
When cared for properly, contact lenses can provide a comfortable and convenient way to work, play, and live the millions of people who wear them. While contact lenses are usually a safe and effective form of vision correction, they are not entirely risk-free.
Contact lenses are medical devices, and failure to wear, clean, and store them as directed can increase the risk of eye infections. Not following your eye doctor's directions raises the risk of developing serious infections. Your habits, supplies, and eye doctor are all essential to keeping your eyes healthy.
We're here to help
If you are interested in wearing contact lenses, we will provide you with a thorough eye examination and an evaluation of your suitability for contact lens wear. Contact us today for more information about contact lenses and to schedule a contact-fitting exam. We'll discuss the best options for your visual and lifestyle needs.
This blog provides general information and discussion about eye health and related subjects. The words and other content provided in this blog, and in any linked materials, are not intended and should not be construed as medical advice. If the reader or any other person has a medical concern, he or she should consult with an appropriately licensed physician. The content of this blog cannot be reproduced or duplicated without the express written consent of Eye IQ.
Read more: Thinking about contact lenses? Here are some important things to know
The retina is the nerve tissue that lines the inside back wall of your eye. Light travels through the pupil and lens and is focused on the retina, where it is converted into a neural impulse and transmitted to the brain. If there is a break in the retina, fluid can track underneath the retina and separate it from the eye wall. Depending on the location and degree of retinal detachment, there can be very serious vision loss.
Symptoms
The three 3 F's are the most common symptoms of a retinal detachment:
Flashes: Flashing lights that are usually seen in peripheral (side) vision.

Floaters: Hundreds of dark spots that persist in the center of vision.

Field cut: Curtain or shadow that usually starts in peripheral vision that may move to involve the center of vision.
Causes
Retinal detachments can be broadly divided into three categories depending on the cause of the detachment:
Rhegmatogenous retinal detachments: Rhegmatogenous means "arising from a rupture," so these detachments are due to a break in the retina that allows fluid to collect underneath the retina. A retinal tear can develop when the vitreous (the gel-like substance that fills the back cavity of the eye) separates from the retina as part of the normal aging process.
The risk factors associated with this type of retinal detachment:
Lattice degeneration – thinning of the retina.

High myopia (nearsighted) - can result in thinning of the retina.

History of a previous retinal break or detachment in the other eye.

Trauma.

Family history of retinal detachment.
Tractional retinal detachments: These are caused by scar tissue that grows on the surface of the retina and contraction of the scar tissue pulls the retina off the back of the eye. The most common cause of scar tissue formation is due to uncontrolled diabetes.
Exudative retinal detachments: These types of detachments form when fluid accumulates underneath the retina. This is due to inflammation inside the eye that results in leaking blood vessels. The visual changes can vary depending on your head position because the fluid will shift as you move your head. There is no associated retinal hole or break in this type detachment. Of the three types of retinal detachments, exudative is the least common.
Diagnostic tests
A dilated eye exam is needed to examine the retina and the periphery. This may entail a scleral depression exam where gentle pressure is applied to the eye to examine the peripheral retina.

A scan of the retina (optical coherence tomography) may be performed to detect any subtle fluid that may accumulate under the retina.

If there is significant blood or a clear view of the retina is not possible then an ultrasound of the eye may be performed.
Treatment
The goal of treatment is to re-attach the retina to the eye wall and treat the retinal tears or holes.
In general, there are four treatment options:
Laser: A small retinal detachment can be walled off with a barrier laser to prevent further spread of the fluid and the retinal detachment.

Pneumatic Retinopexy: This is an office-based procedure that requires injecting a gas bubble inside the eye. After this procedure, you need to position your head in a certain direction for the gas bubble to reposition the retina back along the inside wall of the eye. A freezing or laser procedure is performed around the retinal break. This procedure has about 70% to 80% success rate but not everyone is a good candidate for a pneumatic retinopexy.

Scleral buckle: This is a surgery that needs to be performed in the operating room. This procedure involves placing a silicone band around the outside of the eye to bring the eye wall closer to the retina. The retinal tear is then treated with a freezing procedure. Vitrectomy: In this surgery, the vitreous inside the eye is removed and the fluid underneath the retina is drained. The retinal tear is then treated with either a laser or freezing procedure. At the completion of the surgery, a gas bubble fills the eye to hold the retina in place. The gas bubble will slowly dissipate over several weeks. Sometimes a scleral buckle is combined with a vitrectomy surgery.
Prognosis
Final vision after retinal detachment repair is usually dependent on whether the macula (central part of the retina that you use for fine vision) is involved. If the macula is detached, then there is usually some decrease in final vision after reattachment. Therefore, a good predictor is initial presenting vision. We recommend that patients with symptoms of retinal detachments (flashes, floaters, or field cuts) have a dilated eye exam. The sooner the diagnosis is made, the better the treatment outcome.
Article contributed by Dr. Jane Pan
This blog provides general information and discussion about eye health and related subjects. The words and other content provided in this blog, and in any linked materials, are not intended and should not be construed as medical advice. If the reader or any other person has a medical concern, he or she should consult with an appropriately licensed physician. The content of this blog cannot be reproduced or duplicated without the express written consent of Eye IQ.
Read more: Retinal Detachment - Symptoms, Signs and Treatment
The jury is still out on that question. There is some supportive experimental data in animal models but no well-done human studies that show any significant benefit.
What you shouldn't do is pass up taking the AREDS 2 nutritional supplement formula, which is clinically proven to reduce the risk of severe visual loss in. Almost all the data supporting the POSSIBLE benefits of bilberry in visual conditions is related to NON-HUMANS. Stick with the AREDS 2 formula that has excellent clinical evidence.
So, what is bilberry and why do some people use it?
Bilberry (Vaccinium myrtillus), a low-growing shrub that produces a blue-colored berry, is native to Northern Europe and grows in North America and Asia. It is naturally rich in anthocyanins, which have anti-oxidant properties.
During World War II, British pilots in the Royal Air Force ate bilberry jam, hoping to improve their night vision. No one is exactly sure where the impetus to do this came from, but it is believed that this event is what lead to some widespread claims that bilberry was good for your eyes.
A study by JH Kramer, Anthocyanosides of Vaccinium myrtillus (Bilberry) for Night Vision - A Systematic Review of Placebo-Controlled Trials, reviewed most of the literature pertaining to the claim that bilberry improves night vision. He found that the four most recent trials, which were all rigorous randomized controlled trials (RCTs), showed no correlation with bilberry extract and improved night vision. A fifth RCT and seven non-randomized controlled trials reported positive effects on outcome measures relevant to night vision, but these studies had less-rigorous methodology.
Healthy subjects with normal or above-average eyesight were tested in 11 of the 12 trials. The hypothesis that V. myrtillus improves normal night vision is not supported by evidence from rigorous clinical studies. There is a complete absence of rigorous research into the effects of the extract on subjects suffering impaired night vision due to pathological eye conditions.
Even though there is no solid evidence in human studies that bilberry produces any positive visual effects on night vision there is some experimental evidence that implies it might be useful in some ocular conditions whose mode of action is oxidative stress. There are recent epidemiologic, molecular and genetic studies that show a major role of oxidative stress in age-related macular degeneration.
There have been some studies showing oxidative protective effects of bilberry in non-human models.
In Protective effects of bilberry and lingonberry extracts against blue-light emitting diode light-induced retinal photoreceptor cell damage in vitro, Ogawa et al showed in cultured mouse cells that adding bilberry extract to cells before subjecting them to high-energy short-wavelength light that the cells survived better mostly by reducing the amount of reactive oxidative molecules.
In Retinoprotective Effects of Bilberry Anthocyanins via Antioxidant, Anti-Inflammatory, and Anti-Apoptotic Mechanisms in a Visible Light-Induced Retinal Degeneration Model in Pigmented Rabbits, Wang et al found similarly improved survival of pigmented rabbit retinal cells when exposed to bilberry abstract prior to high-intensity light.
But bilberry is not without potential side effects.
Bilberry possesses anti-platelet activity; it may interact with NSAIDs, particularly aspirin. And excessive drinking of bilberry juice may cause diarrhea. One study of 2,295 people given bilberry extract found a 4% incidence of side effects or adverse events. Further, bilberry side effects may include mild digestive distress, skin rashes and drowsiness. Chronic uses of the bilberry leaf may lead to serious side effects. High doses of bilberry leaf can be poisonous.
Bilberry has not been evaluated by the Food and Drug Administration for safety, effectiveness, or purity.
Article contributed by Dr. Brian Wnorowski, M.D.
Read more: I Have Macular Degeneration - Should I Take Bilberry?
Here are some treatment options for Dry and Wet Age Related Macular Degeneration.
Nutritional supplements and Dry Age Related Macular Degeneration (AMD)
The Age-Related Eye Disease Study 2 (AREDS2) showed that people at high risk of developing advanced stages of AMD benefited from taking dietary supplements. Supplements lowered the risk of macular degeneration progression by 25 percent. These supplements did not benefit people with early AMD or people without AMD.
Following is the supplementation:
Vitamin C - 500 mg
Vitamin E - 400 IU
Lutein – 10 mg
Zeaxanthin – 2 mg
Zinc Oxide – 80 mg
Copper – 2 mg (to prevent copper deficiency that may be associated with taking high amount of zinc)
Another study showed a benefit in eating dark leafy greens and yellow, orange and other fruits and vegetables. These vitamins and minerals listed above are recommended in addition to a healthy, balanced diet.
It is important to remember that vitamin supplements are not a cure for AMD, nor will they restore vision. However, these supplements may help some people maintain their vision or slow the progression of the disease.
Wet AMD treatments
The most common treatment for wet AMD is an eye injection of anti-vascular endothelial growth factor (anti-VEGF). This treatment blocks the growth of abnormal blood vessels, slows their leakage of fluid, may help slow vision loss, and in some cases can improve vision. There are currently three anti-VEGF drugs available: Avastin, Lucentis, and Eylea.
You may need monthly injections for a prolonged period of time for treatment of wet AMD.
Laser Treatment for Wet AMD
Some cases of wet AMD may benefit from thermal laser. This laser destroys the abnormal blood vessels in the eye to prevent leakage and bleeding in the retina. A scar forms where the laser is applied and may cause a blind spot that might be noticeable in your field of vision.
Photodynamic Therapy or PDT
Some patients with wet AMD might benefit from photodynamic therapy (PDT). A medication called Visudyne is injected into your arm and the drug is activated as it passes through the retina by shining a low-energy laser beam into your eye. Once the drug is activated by the light it produces a chemical reaction that destroys abnormal blood vessels in the retina. Sometimes a combination of laser treatments and injections of anti-VEGF mediations are employed to treat wet AMD.
Article contributed by Jane Pan M.D.
The content of this blog cannot be reproduced or duplicated without the express written consent of Eye IQ
Glaucoma, often referred to as "the silent thief of sight", can occur with no warning signs, pain or symptoms. It affects 3 million people in the United States and has caused blindness in over 120,000 people. Glaucoma cannot be cured, but if detected early can be managed to limit its effects.
Glaucoma usually occurs when there is an increase of pressure within your eye, but can occur with normal eye pressure as well. This pressure causes damage to the optic nerve, which is the weakest part of your eye, leading to decreased peripheral vision and possibly blindness.
Your eye is divided into two chambers, the anterior chamber at the front of the eye, and the posterior chamber at the back. A fluid, called the aqueous humor, is produced by the cilliary body and circulates between the two chambers to clean and nourish your eye. Once it reaches the edge of your iris it leaves the eye through an opening called the trabecular meshwork.
With glaucoma, more fluid is produced than can be removed, which leads to an increase in pressure in the anterior chamber. Eventually the pressure throughout your eye increases, exerting force on the neural fibers of your optic nerve. Over time this causes damage to the optic nerve, which leads to partial or total vision loss.
There are a number of risk factors for glaucoma including age, ethnicity, family history, and certain medical disorders such as diabetes. If you are at a higher risk for glaucoma be sure and consult with your eye care provider regularly to increase your chance of early detection.
Age-related Macular Degeneration or AMD is a disease that causes a slow and painless loss of central vision. Central vision is what you use when you look straight at an object; it allows you to see fine detail needed when reading or driving.
On the inside of the eye is the retina, which contains over 120 million light sensitive cells or photoreceptors. The largest concentration of photoreceptors is in the macula, located in the center of the retina .
Directly behind the photoreceptors is the pigment layer, and behind that is the choroid, containing the blood supply to the retina.
Macular Degeneration occurs in two forms: dry and wet.
In the dry form, cellular debris called drusen accumulates between the retina and the choroid; and the retina can separate. The risk is considerably higher when the drusen are large and numerous, which can disturb the pigmented cell layer under the macula.
At the onset, most patients with the dry form have good vision. But over time, as the disease progresses, colors appear less bright and print may appear blurry or distorted. A dark area or empty area can appear in the center of vision. In about 10% of patients with the dry form, the disease progresses to the more serious wet form.
In the neovascular, or wet form, damage to the macula can occur rapidly. Proteins in the eye cause abnormal blood vessels to spring up from the choroid behind the retina. As the blood vessels grow, they can leak blood and fluids that kill the photoreceptors, causing permanent blind spots. Eventually the retina can also become detached.
Patients may see a dark spot in the center of their vision field. Straight line objects, like doorways may appear wavy, as the retinal structure is distorted.
Macular degeneration is the most common cause of vision loss and blindness in individuals over the age of fifty. About 1.8 million US residents currently have advanced age-related macular degeneration, so it's important to have your eyes examined regularly by your eye care professional.
The content of this video and blog cannot be reproduced or duplicated without the express written consent of EYEiQ.