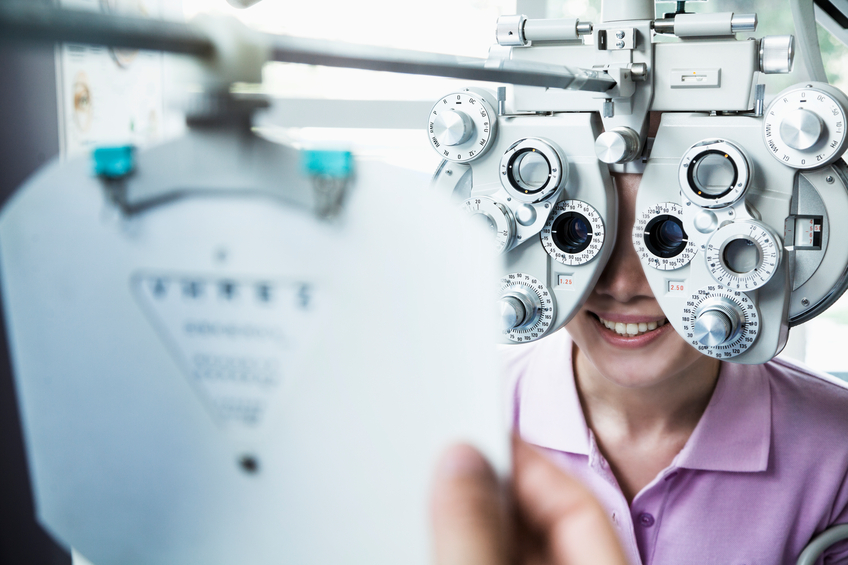 A full range of services to meet every need
Eye Care Professionals specializes in comprehensive primary and vision care, providing a full range of services, from routine exams to eyeglasses and contact lens services.
Eye Health and Vision Examinations
Our doctors and staff members take the time to listen and provide the best solutions to your individual eye care needs. Complete examinations include careful testing for eye diseases and conditions such as:
Glaucoma
Cataracts
Macular Degeneration
Diabetic Retinopathy
Headache Evaluations
Eye Infections
Learn more about these and other conditions in the Vision Conditions section.
Your Visit
Our staff will strive to make your visit comfortable and convenient.
Typically your visit will include:
Check in: Our friendly representative at the front desk will go over insurance information, medical history and other diagnostic information the doctor may need for your exam.
Pre-Screening: An optometric assistant will ask about any medications you are currently taking as they may affect your vision, and will conduct pre-screening tests for the doctor.
Eye Exam: Your doctor will conduct a thorough eye exam, checking your total eye health, and will make recommendations based on the findings of the exam.
Complete Optical Services:
Optical: After your exam, your doctor will introduce you to our optical department if you need eyewear or an adjustment on your glasses. Click here for details on all the eyewear products we offer including our exclusive 2-year warranty
Your Optician: A NYS licensed optician will go over the recommendations made by the doctor and explain the new technologies and options available. You will be properly fitted with the best optical solution for your needs, at the best value.
Treatment of Eye Disease
Eye Care Professionals of Western New York has a broad range of experience and expertise in the care and treatment of eye diseases and conditions including:
Diabetic Retinopathy
Cataracts
Glaucoma
Macular Degeneration
Anterior segment disease & infection
Conjunctivitis
Iritis
Dry eye
Blepharitis
Corneal abrasions
Contact lens related disorders
You will find more information in the Vision Conditions section on various eye diseases and conditions and how we can assist in ensuring that you receive the best care and treatment possible. Our doctors are always available to patients to answer any questions you may have about these conditions.
Cataract Evaluation & Management
Cataracts are the most common cause of visual impairment in the senior population, though cataracts are found to a lesser extent in younger people. Vision problems due to cataracts can significantly affect a person's everyday lifestyle. Fortunately, great strides have been made in cataract surgery.
If you are faced with cataracts, Eye Care Professionals can assist you in evaluation and management of the condition through:
Education and information on what a cataract is and what could be expected as time goes on
Creating a strategy for appropriate follow-up to monitor cataracts
Assisting you in deciding to pursue cataract surgery and being an advocate for quality surgery
Continuing to act as your eye care provider shortly after the surgery. Visit the Vision Conditions section for more information on cataracts